Marta González García
Associate Manager at Novo Nordisk Kalundborg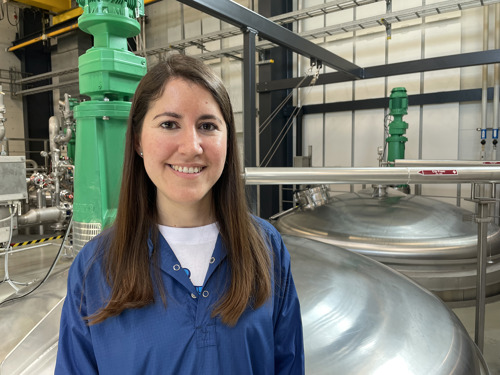 Name: Marta González García
Age: 32
Nationality: Spanish
Company: Novo Nordisk
Title/education: Associate Manager at Novo Nordisk Kalundborg. MSc in Chemical Engineering from the Technical University of Denmark
I ended up in Denmark because
I have always been curious to see the world and live abroad. During my bachelor's degree I traveled with the Erasmus Program to Norway, where I lived in Stavanger for 6 months. After that, I decided to move to Denmark in 2014 to initiate my master's degree. Studying in Denmark is free, and the job market in Spain was insecure so it was an excellent opportunity to expand my technical expertise in Chemical Engineering and start my career afterwards. I have lived in Denmark ever since.
What surprises me most about working in Denmark is
Compared to Spain, the working culture is different. There is a strong focus on people development, and I have grown a lot personally and professionally whilst working in Denmark. I started working at Novo Nordisk Manufacturing Kalundborg as a junior engineer and have had the opportunity to grow into a leadership role. I have experienced a high degree of trust, even towards new employees. A flat organizational structure also brings the manager closer to you as an employee, which brings more confidence when working with new tasks.
My Danish colleagues are
I have very nice and kind colleagues, and they have always been helpful. I feel everyone do their best, and that creates a nice working environment.
Even though I am part of a diverse team, with people coming from many different countries, my colleagues are always up for speaking English.
Life in Denmark is
There is a high sense of trust between citizens and towards the institutions. For instance, I once forgot my laptop at university, and an hour later it was still there. In general, social security is very good: free health care system, good unemployment help, long maternity leave, etc.
I would recommend anybody moving to Denmark to
Even though everyone here have a high level of English, you should be willing to learn Danish at some point. Before moving here, you can benefit from start looking for job abroad, and make sure to have good savings. If you are studying, it can be a good opportunity to get a student job or internship during your studies, which can give you good opportunities to the job market once you graduate.