Kristiana Caci
Software Developer at Hesehus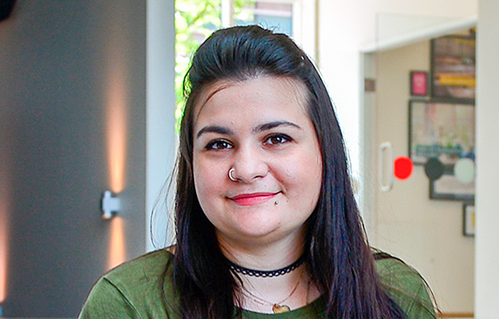 Name: Kristiana Caci
Age: 25
Nationality: Greek
Company: Hesehus
Title/ Education: Software Developer / Master of Computer Science, SDU / Master of Science in Informatics, Faculty of Natural Sciences, UT, Albania
I ended up in Denmark because
I was looking for a new experience and my aim was the Nordic countries after I finished my master studies. I chose Denmark because it was one of the happiest countries, safe and developed, that could offer me a lot of possibilities to build a successful career. I also had family here so it was easier to make a new, fresh start. Another main reason was that I had applied for a second master at SDU, and I was admitted.
What surprises me most about working in Denmark is
The great focus given to the employees so that they feel comfortable and happy in their workplace.
My Danish colleagues are
Really nice, always with a smile on their face and very reliable when you ask for help. They like to share knowledge with you and help you become better. Personally, I feel motivated and inspired by my colleagues.
Life in Denmark is
Hygge, safe and secure, structured, balanced and windy..
I would recommend anybody moving to Denmark to
Try how it is to have a calm, happy and successful life.