Hailin Meng
Product & Sales Manager / MSc Economics and Business Administration - International Business and Management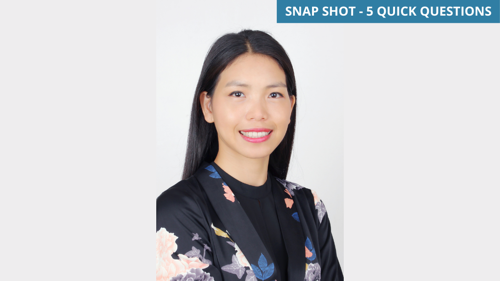 Name: Hailin Meng
Age: 32
Nationality: Chinese
Company: Compfitt Group
Title/education: Product & Sales Manager / MSc Economics and Business Administration - International Business and Management

I ended up in Denmark because
I decided to go out of my comfort zone and challenge myself to pursue something new in life! I chose Denmark based on my many years of pleasant experiences when I was working for a Danish trading company in China at various positions. I completed my MSc studies in Economics and Business Administration majoring in International Business and Management at the University of Southern Denmark in Odense in 2020. I stayed because I was married to my Danish husband right after my graduation. At the same time, I was also hired as a Product & Sales Manager at Compfitt Group, responsible for sourcing and selling European products to the Chinese market.
What surprises me most about working in Denmark is
The great balance between work and life, this enables me to enjoy a good quality personal life while working and living here. In Denmark, it is expected that employees take their own initiatives and responsibilities at their job. Furthermore, the flat hierarchies and flexible work schedules to individuals in Danish companies, which really showcase the trustful relationships between employers and employees.
My Danish colleagues are
Very helpful and supportive! I enjoy talking to my Danish colleagues at lunch or Friday morning when we have "rundstykker" and cake. It is not always easy when they are prone to communicate in Danish, but that is a great opportunity to know more about my colleagues by learning more about the Danish culture and humour.
Life in Denmark is
Stille og roligt (nice and easy). Compared to many other countries, Denmark is quite slow-paced, yet efficient in many aspects. I am happy to live in one of the happiest countries in the world and be part of the Danish "hygge" culture. But do not expect too much from the Danish weather, it is challenging to get used to the grey and rainy days, especially at wintertime. On the other hand, if you like the ocean, you are never far away from the sea and some lovely beaches. Likewise, there is a generous amount of fantastic nature nearby.
I would recommend anybody moving to Denmark to
Join a club within sports, board games or literally any kind of hobby clubs. Danish people are very open and friendly in general, but it can be a bit difficult to get into their inner circles, they tend to be like "coconuts". What is more, I highly recommend learning danish to fully grasp the local humour and ways of speaking. Being able to communicate in Danish and attending social activities such as sports, are the keys to break open the "coconut" and enjoy the sweetness from within. If you manage to do so, you will be exposed to absolute sweetness by your new Danish friends. This will certainly bring you great insights of the Danish culture as whole.